Meet Our Team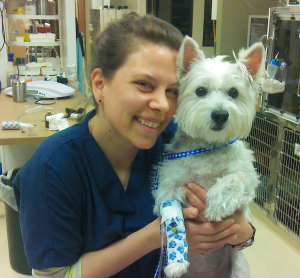 Angela
Angela graduated from Baker College with an Associates in Applied Science in 2011, and is a Licensed Veterinary Technician (both nationally and state certified). She also has an Associates Degree in Liberal Arts from Oakland Community College and is currently pursuing a Bachelors Degree in Finance.
Angela has been doing emergency veterinary care since 2012. She has also worked at a day practice clinic that saw exotic pets, and has a year of experience working in dermatology, among other various departments of veterinary specialty that include: surgery, neurology, and internal medicine.
"I like working in emergency because I rely on my ability to react. I also like not knowing what is going to come through the door. I enjoy sharing my knowledge with concerned pet owners, and feel I have a way of explaining things that makes an uncertain situation easy to understand. Instead of using unfamiliar medical terms, I try to use language people can relate to, often drawing pictures to help explain what is happening so people have an easier time with any decisions they are making."
Angela has been with AEC since 2013. She has 3 cats, 2 dogs and 2 fish and loves gardening, swimming, hiking, canoeing, and being outdoors.