Meet Our Team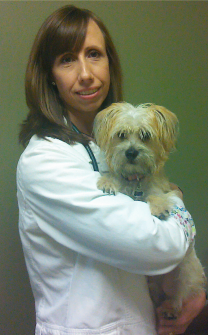 Dr. Ellen LaFramboise
Dr. Ellen LaFramboise obtained her Bachelor of Science degree from Michigan State University in 1996 and her Doctorate in Veterinary Medicine from Michigan State University in 2001. She has practiced emergency and critical care medicine throughout the Metro Detroit area since 2001.
Dr. LaFramboise joined AEC in 2012. She is a member of IVECCS, AVMA, MVMA and SEMVMA.
"I love the challenge of emergency medicine. I love not knowing what may walk through the door in any given moment. I love that even after this many years in the ER, I still see unique cases that challenge me to constantly grow as a veterinarian."
Dr. LaFramboise has 2 young daughters that keep her busy during her free time. She also has a Himalayan named Gerry, a Terrier mix named Louis and a Labradoodle puppy named Rosebud 9000 by her girls, but affectionately called Rosie. Dr. LaFramboise loves running and competing in triathlons, and one day hopes to complete a half ironman.